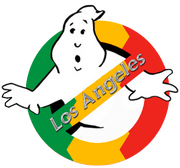 The L.A. Ghostbusters are a franchise founded in Los Angeles, California. It is founded by Maddie Collins.
At the conclusion of the battle against Ivo Shandor in Thanksgiving 1991, Maddie was offered the opportunity to expand the Ghostbusters with a franchise in either Chicago, Los Angeles, or Cincinnati. Despite Peter Venkman saying that he gets to choose, Maddie broke her silence by choosing Los Angeles. Upon arrival, she tried to find other people who had some form of interest. Shortly after, Danny signed up. The two visited a local elementary school, in which the kids were disappointed by the fact that they weren't the Ghostbusters from New York. Maddie tried to keep the kids interested by telling them a story about when she was involved with the original Ghostbusters. The story was mainly about her fight with Ivo Shandor. Danny then started to ad-lib details that didn't come close to the story Maddie was telling. After Danny somehow managed to accidentally scare the kids, he and Maddie were escorted out of the school. Eventually, a heavy metal obsessed chick named Jackie signed up to the team, and so did Simone. Knowing that they're gonna need someone to answer phone calls, they hired Roger Ellis to take care of it. To celebrate their first bust, they went to a local fast food joint, which was brought back to their firehouse. Afterwards, they finally bust ghosts on a regular basis as expected.
Maddie Collins (The Leader)
Jackie Willis (The Punk Chick)
Danny Osbourne (The Intimidating One)
Simone Raynis (The 4th One)
Employees
Edit
Ecto-1D (1988 Chevrolet Suburban 4x4 Granite Falls Fire Department)
Properties
Edit
L.A. Ghostbusters Firehouse (2230 Pasadena Avenue, Los Angeles, CA 90031)
The primary logo used for the franchise is visually based off the sloppy screen-used arm patch seen on the uniforms from the first movie, which is also the replica patch sold by Anovos. The only change is the green-yellow-red color scheme to represent the city flag and the metallic text on the bar. The logo itself was handmade and was already crafted before the logo was finalized, much like the movie's title screen.